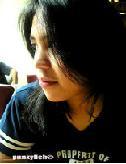 Friend. Writer. Learner. Geek. Food Lover. LDNer. Restless Wanderer. Stealth crazy. Secret Optimist. Irrepresible Dreamer. Forever in awe of life.
@Gemified
Gem
On Twitter since Mon, 06 Apr 2009
&nbspEndorsed By
Endorse Gem for Writers
Plain tweets
Links
Insights
24% of Gem's tweets are replies. This means 36 replies a week, mostly to @tcwnyc (66) and @RochelleDancel (61).
Checkins
Retweets
RT @Tesco: No cereal can match the flamboyance of a warmed Pop Tart leaping from the toaster.



Mentions
I'm okay with this. RT @UberFacts Finding Nemo is the best-selling DVD of all time.




Now there's an idea... RT @UberFacts Costa Rica abolished their military and spends that money on education and culture instead.



Browse similar people