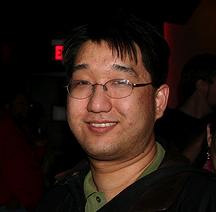 I run http://t.co/qVQ6Fbexk1, http://t.co/DRHfEkr2cM, http://t.co/tzzugzAnXW. Talk mostly about Apple and tech.
@arnoldkim
Arnold Kim
On Twitter since Sun, 27 May 2007
&nbspEndorsed By
Endorse Arnold for Apple
Plain tweets
Links
Insights
58% of Arnold Kim's tweets are replies. This means 18 replies a week, mostly to @reneritchie (66) and @markgurman (60).
Retweets
Mentions
well, crap. my dock is on the right side/screen RT @RobinBolinsson: @arnoldkim @ismh It appears on whichever monitor that has the Dock.



Browse similar people