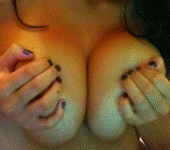 Sou stripper virtual, faço shows PAGOS pelo msn/skype e sou garota PARA programa.Quer saber o que é isso? Visita meu site http://t.co/FQpUykO8
@sofiastripper
Sofia Stripper
On Twitter since Fri, 11 Feb 2011
Plain tweets
Links
Insights
34% of Sofia Stripper's tweets are replies. This means 10 replies a week, mostly to @GatasNaWeb (36) and @vinnysacramento (27).
Retweets
Mentions
Cansadíssima, pernas doendo muito de tanto pular, mas tem mais dois dias de @rockinrio pela frente! Simbora!!!!!!!




Vivo roubando foto do tumblr da @Camilinha69 . É muito tesudo gente!!!